ICDR-Executive
ICDR-Executive provides support and guidance to the ICDR Director on operational and strategic matters.
ICDR Director
Stephanie Nixon
Associate Professor, Department of Physical Therapy, Graduate Department of Rehabilitation Science, Dalla Lana School of Public Health, Collaborative Doctoral Program in Global Health, and Joint Centre for Bioethics at the University of TorontoResearch Associate, Health Economics and HIV/AIDS Research Division (HEARD), University of KwaZulu-Natal, South Africa
Stephanie is a critical social scientist and physiotherapist interested in advocacy-oriented research examining global health, HIV, disability, rehabilitation, ethics and pedagogy. She co-founded ICDR, and was appointed Academic Director from 2009-2012, at which time she was appointed Director.
ICDR Executive Members
Kim Bradley
Assistant Professor (Status) Department of Speech Language Pathology, University of Toronto Collaborative Practice Leader, Holland Bloorview Kids Rehabilitation Hospital Clinical Team Investigator, Bloorview Research Institute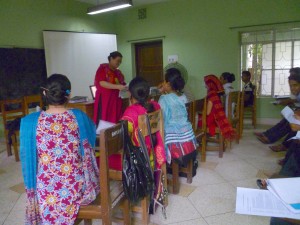 Kim has practiced in acquired neurologic communication disorders in both the the UK and Canada and has taught Motor Speech Disorders and Acquired Brain Injury at the University of Toronto for over fifteen years. Kim works as a Collaborative Practice Leader at Holland Bloorview Kids Rehabilitation Hospital supporting the professional practice of a cluster of clinicians including speech pathologists, communicative disorder assistants, audiologists, social workers, registered dieticians, music therapists and alternative technology consultants. Kim has been involved with ICDR since 2007 and has a particular interest in the education of speech language  therapists and rehabilitation workers in low middle income countries having been involved with programs in Bangladesh, Ethiopia and Thailand.
Debra Cameron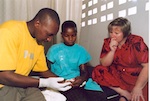 Assistant Professor and International Fieldwork Coordinator, Department of Occupational Science and Occupational Therapy
Associate Member, School of Graduate Studies
Cross Appointment – Collaborative Program in Women's Health
Deb has a passion for international health and was a founding member of the International Centre for Disability and Rehabilitation. Within ICDR Deb plays a variety of roles including member of the Executive, Education Lead and Vice-Chair Research for ICDR Trinidad.  As International Fieldwork Coordinator for the Department of Occupational Science and Occupational Therapy, she facilitates student placements in ICDR countries such as Cameroon, Kenya, Tanzania, Trinidad and the Philippines.  Her research interests include impact of student placement, preparing global citizens and rehabilitation in low income countries. 
Lynn Cockburn
Assistant Professor, Department of Occupational Science & Occupational Therapy
International Centre for Disability and Rehabilitation, Faculty of Medicine, University of Toronto
Visiting Senior Lecturer, University of Bamenda, Bamenda, Cameroon
Lynn is an occupational therapist, educator and researcher. Her research and educational interests focus on professional development, occupational therapy, wellbeing and mental health, diversity and inclusion, and interprofessional education.  In addition to her work at the University of Toronto, Lynn is Chair of ICDR-Cameroon at the International Centre for Disability and Rehabilitation, and enjoys visiting Cameroon regularly. She is grateful for the large network of wonderful colleagues that she has the opportunity to work with through this work.
ICDR Coordinator
Cathy Cameron
As Coordinator at ICDR Cathy supports the Executive and the activities of the 9 country groups. Cathy also Chairs the ICDR Finance group and is Vice-Chair Research for ICDR-Zambia. She earned an MHSc from the University of Toronto and has more than 15 years experience coordinating provincial, national and international research and evaluation projects. In addition to her role as ICDR Coordinator, Cathy is currently the research coordinator for two projects in Kenya and Zambia under the leadership of Dr. Stephanie Nixon related to HIV, disability and rehabilitation. These projects are being implemented with collaborators in Canada and Sub-Saharan Africa.